Conscious Uncoupling Coaching
Conscious Uncoupling is a 5-step process developed by Katherine Woodward Thomas, MFT that I use to guide clients who are going through a breakup or loss, deciding whether to leave a partner, or trying to transform a relationship.

In all my years of personal and spiritual study and development, this is one of the most powerful modalities I have ever encountered, and I feel privileged to be a certified Conscious Uncoupling Coach, trained by Katherine Woodward Thomas, MFT.
I would be honored to take you through this deeply transformative process that will give you: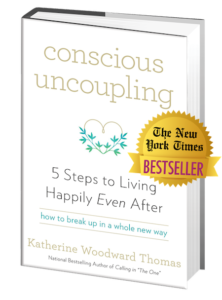 A safe and supportive container to experience, explore and grow from deep feelings of loss;
  A deeper understanding than you have ever had about your own patterns in relationship and how your patterns contribute to the   larger patterns that repeat in your relationships and in your life;
  The ability to transform those patterns, your relationships and your life, to include conscious re-coupling if that is right for you;
  The clarity to make clear and life-affirming choices about your past, current and future relationships;
  Guidance in ending a romantic union in honorable, gracious and respectful ways;
  A step-by-step road map for how to break up in a way that not only does minimal damage to all involved, but can also preserve family units and transform the larger family dynamics;
  A clear guide for how separating couples can create new, cooperative and life-affirming agreements and structures that set everyone up to win moving forward.
As a general guideline, assume the process will take a minimum of 8 sessions, held on a weekly basis; however, in reality this varies greatly from person to person and situation to situation. 
You will be asked to read Conscious Uncoupling by Katherine Woodward Thomas, MFT, to guide and supplement our work together.
Sessions may be held in person in downtown Placerville, California or via phone or video-conferencing.
Please contact me for a free consultation to see if Conscious Uncoupling coaching is right for you.
"Contrary to popular belief, time does not heal all wounds. We do."
—Katherine Woodward Thomas,
from Conscious Uncoupling: 5 Steps to Living Happily Even After